Sittin' In with Orbert Davis
All
Educators
Journalists
Musicians
Vocalists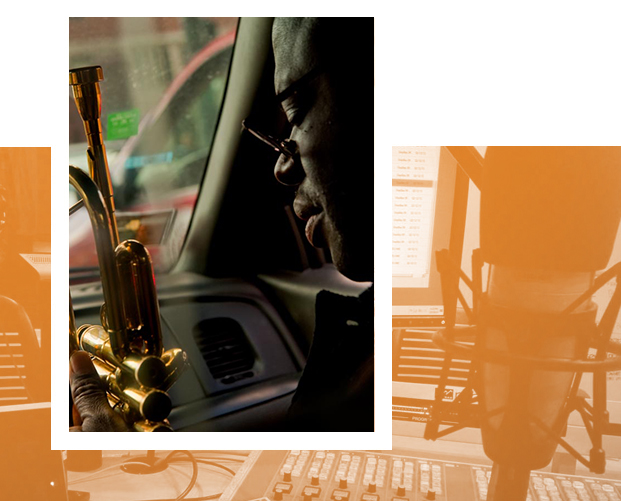 Airing Fridays on WDCB 90.9FM Chicago, "The Real Deal with Orbert Davis" is a
3-hour, straight ahead jazz, tour de force hosted by Orbert Davis. This musical journey includes the traditions of our jazz heritage… where jazz is now, and where it's going!
This Week's Real Deal Playlist
Friday July 23rd, 2021
Hour 1
Kingsbridge – John Hasselback III
On the Move! – Jerry Weldon
One Of Another Kind – Alex Goodman
Mr Roscoe consider the simultaneous – Ambrose Akinmusire
Bop Boy – Marvin Stamm
David and Goliath – Jeremy Pelt
Just Can't Stop – Pearl Django
Bryan's Room (Live) – Sam Ross
Nature Boy – Steve Kroon
Full House – Christian McBride Big Band
Hour 2
Majorly – Trinom3
Kitty Paws – Ray Gallon
Stella By Starlight – Baabe Irving
Peal Me a Grape – Diana Krall
Trouble (No.2) – Dave Stryker
Russian Lullaby – Dizzy Gillespie
Spectacle – Chick Corea & Béla Fleck
I Wonder Where Our Love Has Gone – Dee Daniels And Quartet
Superman – Sauter-Finegan Orchestra; Walter Levinsky(cl)
Hour 3
Spiral – The Crusaders
Livin' On Borrowed Time – Donald Harrison Jr.
Afro-Blue – Oscar Brown Jr.
How Am I To Know – Diane Marino
Blue Spring Shuffle – Kenny Dorham
Come Fly With Me – Frank Sinatra
Kimb ́s blue eyes – Dayramir & Habana enTRANCe
Mood is for Lovin' – Jeannine Otis
Alone Together – Art Blakey
Red Alert – Tony Williams Lifetime