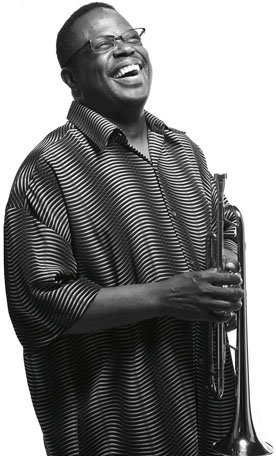 Emmy-Award winning trumpeter, composer and educator Orbert Davis is co-founder, conductor and artistic director of Chicago Jazz Philharmonic (CJP), a 55+ piece symphonic jazz orchestra dedicated to bringing together audiences of diverse backgrounds through multi-genre projects. Over the past 30 years, Mr. Davis' mission-driven career has evolved successfully from 'making it in the music industry' to being a true leader in Chicago's arts and culture community. He is widely respected in not only all things JAZZ, but also for the distinctive ability to use his musical talents to make positive impacts on society through arts education and advocacy.
Orbert has many composer commissions to his credit and has played key roles in major film and television projects as well, including his work as jazz consultant to Academy Award winning director Sam Mendes, for the feature film "Road to Perdition" starring Tom Hanks and Paul Newman. Recent projects include "Home and Away", a Boeing commissioned project to honor our U.S. men and women in uniform, and an original score for the Emmy-Award winning national PBS documentary "DuSable to Obama: Chicago's Black Metropolis" produced by WTTW, also where Orbert garnered his Emmy Award for its soundtrack.
Orbert's 2004 CD release entitled "Blue Notes", was the follow-up to his critically acclaimed "Priority" CD, which garnered an LA Times 4-star review, hit Top-50 "most played on national radio" Jazz CDs in 2002 and was named Top-10 best Jazz CDs of 2002 by the Chicago Tribune. His 2009 CD release of Chicago Jazz Philharmonic's "Collective Creativity", an amalgamation of classical music and jazz, received rave reviews on the national stage as well. Orbert's latest release, Chicago Jazz Philharmonic's "Havana Blue", the result of an extraordinary journey that led to CJP's relationship with the Cuba's Universidad de las Artes (ISA) – a residency that coincided with the historic normalization of relations between the U.S. and Cuba in December 2014.